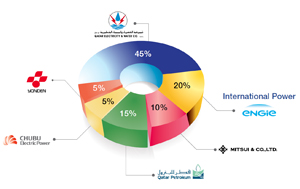 Owing to the encouragement of private participation in Qatar's power and water infrastructure,there has been tremendous interest from foreign corporations to invest in the sector. Two of the country's iconic companies have teamed with four international companies from France and Japan to build Ras Girtas – one of the world's biggest power and water plants.
QATAR PETROLEUM – 15%
Qatar Petroleum (QP), a state-owned corporation established in 1974, is responsible for all phases of the oil and gas industry in Qatar.
The principal activities of Qatar Petroleum and its subsidiaries and joint ventures cover exploration, drilling and production operations, transport, storage, marketing and sale of crude oil, natural gas liquids, liquefied natural gas, gas – to-liquids, refined products, petrochemicals and fertilizers, as well as helicopter and financial services.
Qatar Petroleum's strategy of conducting hydrocarbon exploration and new projects is through Exploration and Production Sharing Agreements (EPSA) and Development and Production Sharing Agreements (DPSA) concluded with major international oil and gas companies.
Thriving on a spirit of enterprise, each of our joint ventures is underpinned by transparency, innovation and determination to achieve unparalleled standards of both quality and service.
QEWC – 45%
Qatar Electricity and Water Company is a public shareholding company founded in 1990 in accordance with the provisions of the Commercial Companies Law, for the purpose of acquiring and managing power generation and water desalination stations and sell its products, with a paid up capital of One hundred million shares of QR 10 each. Approximately 43% of the shares of the company are owned by the Government of Qatar and remaining 57% is held by institutions and private individuals.
The Board of Directors of the company is composed of eleven board members under the chairmanship of H.E. Dr. Mohammed Bin Saleh Al-Sada, Minister of Energy and Industry while executive management of the company is headed by Mr. Fahad H. Al-Mohannadi, Managing Director of the company.
INTERNATIONAL POWER – ENGIE (Previously GDF Suez) – 20%
International Power – ENGIE, one of the leading energy providers in the world, has a 70% shareholding in International Power – ENGIE is the leading private power developer, with over 15 years of experience. It has a direct equity interest in 25,000 MW and more than 4.7 million m3 of water per day of desalination capacity in operation of under construction. Its assets are located in the State of Qatar, the Kingdom of Saudi Arabia, the United Arab Emirates, the Sultanate of Oman and the Kingdom of Bahrain. Worldwide, GDF Suez has 113 GW of installed power capacity and achieved revenues of EUR 84.5 billion in 2010.
MITSUI – 10%
Mitsui is one of the most diversified and comprehensive trading, investment and service enterprises in the world, with 154 offices in 66 countries as of April, 2011. Utilizing the global operating locations,
network and information resources, Mitsui is multilaterally pursuing business that ranges from product 10 sales, worldwide logistics and financing, through to the development of major international infrastructure and other projects in the following fields, Iron & Steel Products, Mineral & Metal Resources, Motor Vehicles, Marine & Aerospace, Chemicals, Energy, Foods &Retail, Consumer Services, Information,
Electronics and Telecommunications, Financial Markets and Transportation Logistics.
CHUBU ELECTRIC POWER CO. INC. – 5%
Chubu Electric Power Co. Inc. (CEPCO) is one of the largest power utilities in Japan, servicing one of the most prominent industrial areas in Japan. With 60 years of experience, CEPCO possesses a passion for efficient operations, whilst also recognizing the importance of environmentally sensitive activities.
CEPCO has various generation facilities, with Qatari LNG being the largest source for gas fuel, and we are the first buyer of Qatari LNG, initiating a close relationship with the State of Qatar.
Among our various overseas projects, CEPCO has been involved in the Ras Laffan B IWPP, Messaieed A IPP and Ras Laffan C projects in Qatar. Utilizing our vast expertise, CEPCO seeks to contribute to the stable supply of electricity and water in the State of Qatar.
SHIKOKU ELECTRIC POWER CO. – 5%
Shikoku Electric Power Company, Incorporated, generally called "YONDEN" is one of the 10 electric utility companies in Japan which carry out the integrated process of generating, transmitting, distributing, and selling electricity in their respective service areas.
For the past 60 years, YONDEN has been providing high-quality, low-cost, stable electricity service to currently more than 4 million people in Shikoku, one of the 4 main islands of Japan and located south of the biggest island, Honshu.
Presently, YONDEN's strategy is to expand into the IWPP/IPP business in foreign countries. Ras Laffan C is the first IWPP project for YONDEN to participate in and it intends to successfully execute this project by utilizing its technical resources in cooperation with the experienced partners.